Interactive Touch-less Displays
For large LED displays and projection, we developed an interactivity module, drawing input from a Kinect depth sensor to allow users to "touch" the 3-D world within the display without actually touching the screen.
The video below shows individuals interacting with these displays for the first time. There are two visuals pictured:
1) A live generated 3-D model of the sound and voices in the room. This is explained in the next section.
2) A high resolution rendering of the Redwoods point cloud, seen above.
Both of these visuals are created using the AiRStudio Unity3D plugin I developed:
Sound Visualization | AiR Listen
Developed first as a composition tool (I wanted to see a violin's overtone series in relationship to the chords and melodies of a song), we later released AiR Listen to the iOS App Store based on interest from others. Most frequency-domain graphs lay out amplitudes of the audio spectrum along a straight line. But our brains don't comprehend sound in that way. This novel helical visualization maps more naturally onto our own experience of sound. It portrays note relationships across octaves.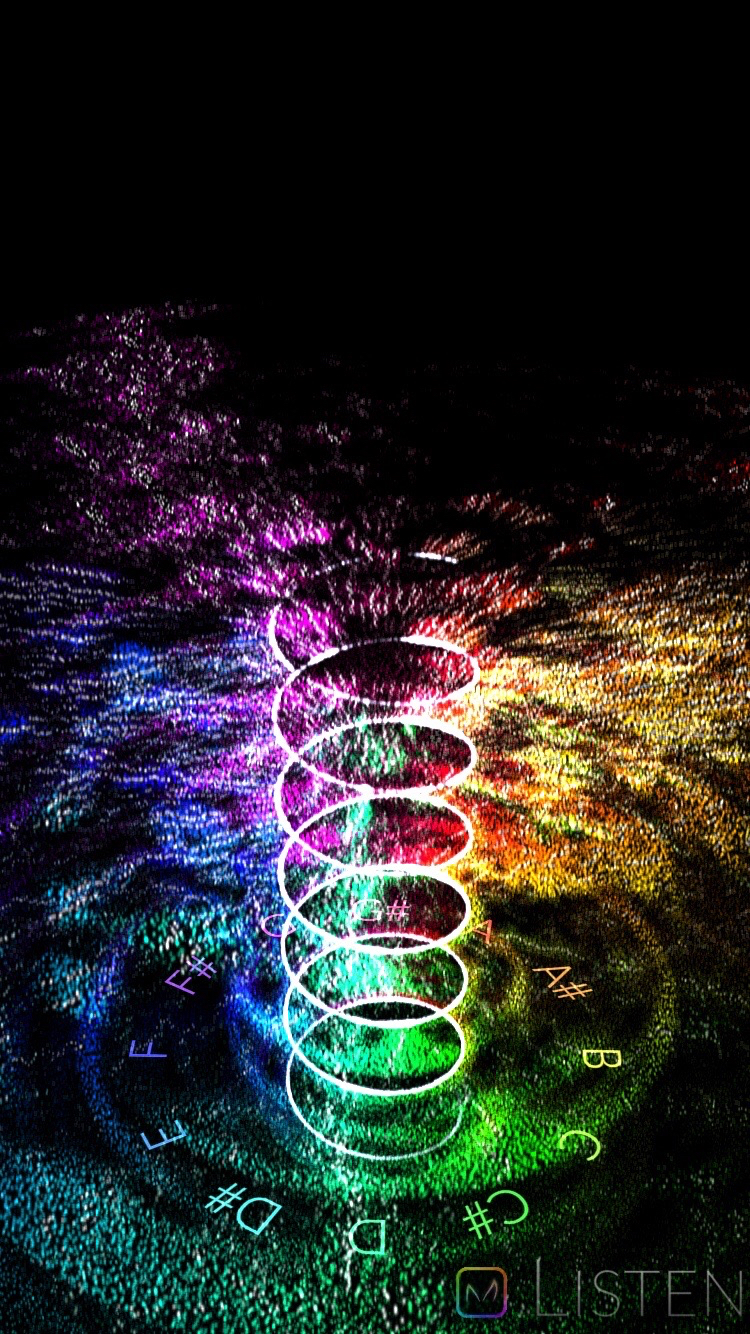 In AiR Listen, each octave is represented by one loop of the helix, and as a result, the tone spectrum is visually organized by note letter: A, B, C, D, E, F, G (plus semitones). All tones within the same note letter (or "pitch class") become vertically stacked.
For example, if you look straight down on the helix (seeing a circle) while multiple octaves of the note "A" are being played, those A's will all visually line up with each other, appearing as one. When you look at the helical model from the side however, the octave of each tone is revealed. This visualization works well on a phone, but it becomes even more intuitive viewed in 3-dimensional space via virtual reality headset or hologram.
With time, each of the glowing particles created by tones drift outward. As the app listens to the sounds around you, it generates a 3-D record of what you are hearing and have heard. The circular and spiral correlation with a traditional music record is only a coincidence, as the two 'records' are of very different format, but the similarity is fascinating nonetheless.
Video screen capture of app while listening to music:
From a technical perspective, AiR Listen leverages the same high performance GPU point engine developed for the LiDAR pointcloud rendering above, but it uses an entirely different data structure and behavior set. This is part of the power of the AiRStudio framework – it offers the ability to extend the base point system for widely different applications, while maintaining high performance optimization.
"The most profound technologies are those that disappear. They weave themselves into the fabric of everyday life until they are indistinguishable from it."
Through technology, music, and film, we share glimpses of our world from perspectives that we couldn't reach before.
My motivation to document and better understand the natural world is captured in the words of Mark Weiser, above: the biological mechanisms which keep us alive have developed over a 3.8 billion year evolution. They are woven into the fabric of everything about and around us, but they are invisible to the naked eye.
Reach me by email at a@airxr.studio

© 2018 Aaron Moffatt